Just a month before International Women in Engineering Day, it is my turn to write a blog post. I thought I should share my experience as a female engineer with other women who might like to start a career in engineering. Some of you reading this blog may know me quite well and some may not. I joined PTRC in January of 2019. Prior to working for PTRC, all I knew about the organization was some of the research that was done in the area of enhanced oil recovery (EOR). As I became more familiar with the role PTRC plays in Saskatchewan's economy and its fame in carbon capture and storage (CCS), I am amazed by what a team of 7 can accomplish if they work together focusing on a general goal. PTRC has been successful in improving recovery rates from Saskatchewan's hard to reach hydrocarbon reserves as well as helping Saskatchewan industries with their climate change mitigation initiatives.
I am the only female engineer in the PTRC office. As with any other job, the first year working with colleagues with decades of experience, researchers, industry personnel and students was fulfilling, intellectually stimulating and I saw growth at both a personal and professional level. Having said that, things have been quite different since March of 2020.
At the beginning, when the work from home order came in, things were great. There was no pressure of hustling kids out the door and with more time to spend with family, working from home seemed like a great idea. That two extra hours a day I gained by working from home could be used to learn a new skill, earn my PMP designation, and work on my engineering reports – life would be good. But one thing I did not foresee was that it would be May of 2021, a year and 2 months since the pandemic hit, and we are still in the same situation. The ongoing uncertainty about the current COVID situation, change of plan for schools, lack of in-person training, travel limitations, and an unknown future made for many challenges and I know as a fact that I am not alone.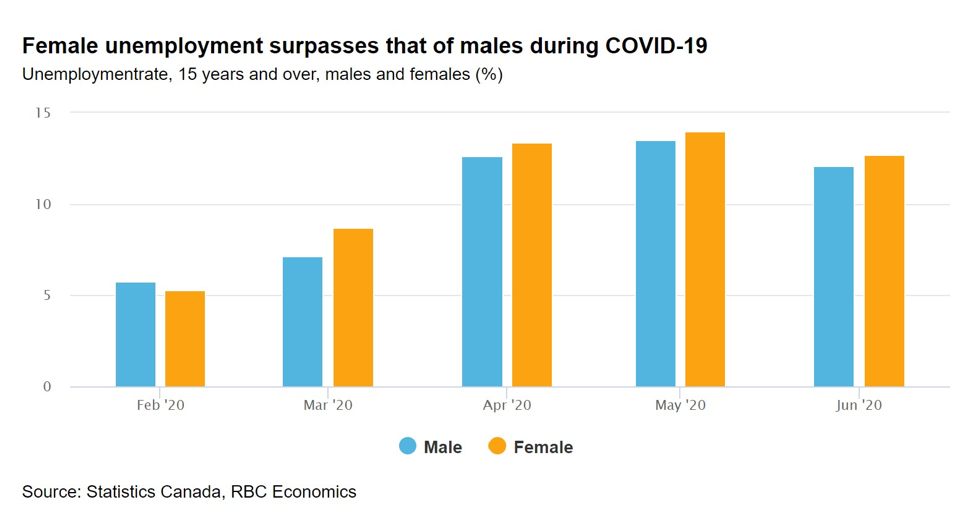 At this point in the pandemic, I know many women who have left their jobs or work reduce hours to deal with childcare responsibilities since child upbringing most falls on women. This means the number of women in the workforce has dropped. The first two months of the pandemic dramatically impacted women. Only 55.5% of women participated in Canada's labour force in April 2020, a drop from 61.2% in February 2020 (see this RBC link) and many of those women well may be in the field of engineering. Participation of women in the labour force rose in the past decades due to changes in social norms and gender roles; new technologies such as electric appliances reduced the time needed to perform household chores and employment opportunities in the service sector increased.
In 2019, Canadian women 15 and older represented nearly half (47.4%) of the labor force, compared to 37.6% in 1976 – a percentage increase of over 25% (Women in the Workforce - Canada). Let's take a deep dive on the percentage of women in the energy industry, such as oil and gas. Overall, women currently make up only about 22% of the Canadian oil and gas workforce — a figure little changed in more than a decade — according to a 2018 report by PetroLMI (a division of the non-profit industry association Energy Safety Canada). In 2006, the same report notes, it stood at 21%.
The Canadian oil and gas extraction sectors are important drivers of economic growth and employment. The oil and gas sector is the most capital-intensive industry in the world and the most complex when it comes to price fluctuation and supply and demand. When economic activity increases the demand for oil rises. But long-term prospects for investment in the Canadian oil and gas sector are tempered by low energy prices, alternative energy sources such as solar and wind, lack of market access, lack of transportation infrastructure such as pipelines, growing public concerns around environmental issues and unexpected events such as the current pandemic.
Why are women less interested in petroleum engineering than men?
The stereotype of oil and gas is that it is a male thing. Heard that before? Lack of interest in science, engineering and math concepts among females has led to minimum female presence in the engineering field in general. Some images that comes to mind when talking about working as a petroleum engineer would be a person in an industrial facility with full PPE, a worker on an oil rig in the middle of nowhere, or working in a small town surrounded by pump jacks. These all imply working in physically demanding jobs that most females may not be fit to do or do not wish to pursue.
The other issue is lack of female role models, which stems from a lower number of females in engineering field. Gender stereotyping is an issue. Engineering should be an option for girls just like the medical field. There is misconception that engineering does not offer flexible hours and is not a family flexible field. Unlike this misconception, engineering does offer family-flexible jobs. Looking at it through a financial lens, the energy industry offers high paying jobs, which allows for the family-friendly option that parents look for.
The oil and gas industry has struggled to attract, retain and promote women. Only a third of entry-level employees in the O&G industry are female (McKinsey). The oil and gas industry was more attractive among students a decade ago than it is now. We see the number of students wanting to join engineering programs specifically related to oil and gas declining due to lack of employment opportunities and uncertainties affecting prospects in this field.
What does a petroleum engineer do?
Let us say you graduated from a Petroleum Engineering program. What type of job could you land? Below is a list of positions in the oil and gas field you can apply for if you like to design and develop ways to extract resources safely from the subsurface.
Reservoir engineers analyse and characterize hydrocarbon reservoirs. They work with geologists to map the geological formations, provide detailed information of the typical production forecast, financial forecast and look into return on investment. Reservoir engineers study reservoirs by doing tons of computer simulations.
Drilling engineers analyse data to anticipate flaws and complications in the drilling plan before the project begins. They determine the drilling method and oversee the entire drilling operations to ensure it is done safely and on time. Drilling engineers mostly work in the field, usually 2 weeks on and two weeks off. They work with contractors to execute the operation plan.
Completion engineers help bring the well into production. Completion engineers oversee the well design. They are the expert on how to do frac jobs (in unconventional reservoirs) and find solutions to best implement a plan that is both economical and effective. They can provide the best advice on the type of designs that worked in the past and suggest new techniques to improve operation.
After the well is drilled, production engineers oversee the well production to ensure it is producing as expected, ultimately bringing profit to the company. How to keep production up and how to keep it up for a longer period is their main concern.
Facility engineers specialize in operations and the type of equipment used to produce from the well. They design equipment to help increase productivity, reduce risk, and increase profit.
Going to school for petroleum engineering will equip you with all you need to become successful in any of these specialties. The type of environment in which you may be working will be manufacturing, or offices and research laboratories, or drilling sites. I work at an office and manage research and field activities related to PTRC's carbon storage project, Aquistore. There have been times when I was the only female amongst male contractors in the field, but I don't find it intimidating. Being in the minority doesn't take a toll on me, although this may be different depending on personalities. Overall hands-on experience through involvement with projects are best to help you grow into the role you have. You will be working with people from a wide variety of backgrounds from geophysicists, geologist, geochemists, engineers, hydrogeologists, etc. You learn something new every day through interactions with other scientists and engineers.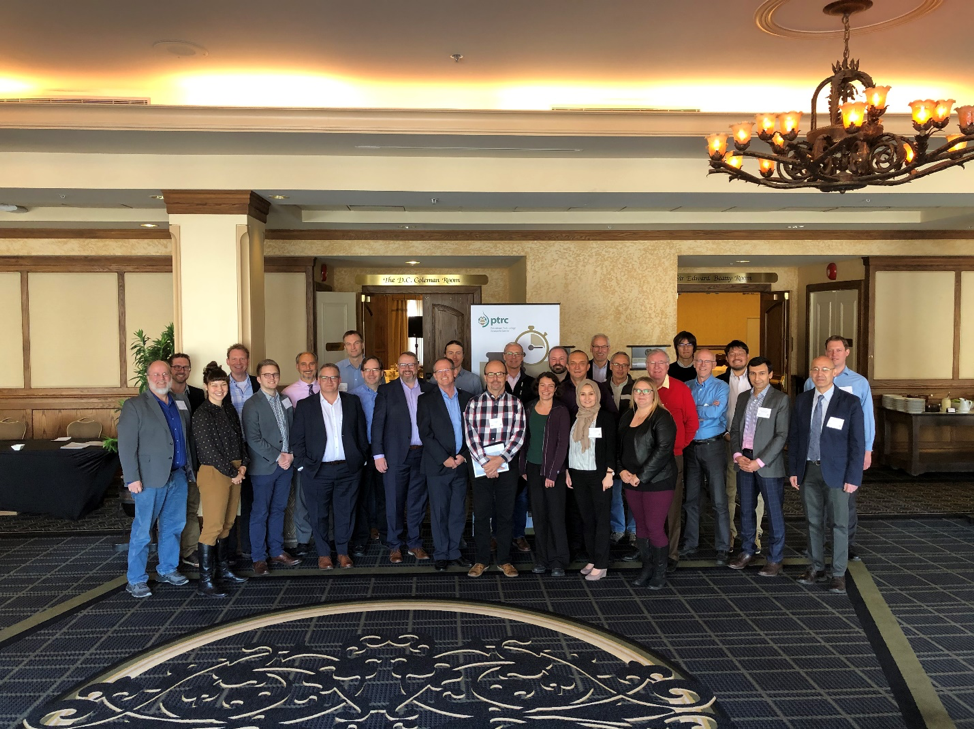 Aquistore AGM-October 2019, Banff, Alberta
Many of the things that we do use petroleum and petroleum products one way or another. From nail polish to tires on our cars, all has been using petroleum (see here for a list of examples). Why not be a part of it? Let us unlock the energy source and bring it into the community.
How can schools and companies encourage women to join engineering?
Schools can help educate students and teach them ways they can incorporate science in every day lives to create a strong foundation. This includes encouraging young girls to adopt a growth mindset, provide opportunities that promote the idea that careers in science and engineering are within their reach.
One of the simplest ways to educate young adults to pursue engineering is to use story telling. Senior engineers, specifically women engineers, need to reach out to schools (to access a larger audience of girls) and speak about what they do as engineers to clarify the misconceptions that exist around this subject.
Offering scholarships to women is another way to encourage and attract female students into studying engineering. Last year, the university of Regina announced that CA$200,000 in scholarships will be allocated specifically to female graduate students entering the faculties of science and engineering. It is just one of several initiatives at the university that are designed to support women in STEM (Science, Technology, Engineering and Mathematics).
Engineers canada is working to increase the representation of women within engineering through its 30 by 30 initiative. This initiative, first conceived by the Association of Professional Engineers and Geoscientists of Alberta (APEGA) in 2010, was adopted by Engineers Canada as the national goal of raising the percentage of newly licensed engineers who are women to 30 per cent by the year 2030. Thirty per cent is universally held as the tipping point for sustainable change—reaching 30 by 30 will help drive the shift in the overall membership of the engineering profession as more and more women continue to enter the profession (30 by 30 | Engineers Canada).
At this time, companies now encourage diversity and support equal employment opportunities through increasing focus on environmental, social and governance (ESG) issues. Governments and regulators have become increasingly watchful of companies' female representation; depending on where they operate, corporations may face even greater regulatory pressure to address gender parity at the board level and beyond.
These all show that the industry is becoming more welcoming towards female engineers and why not take advantage of this opportunity?
My suggestion for women who would like a career in petroleum engineering
Come with full courage that you will succeed. And you will. Be adaptable. There is endless opportunity to learn and grow as professionals in the field of petroleum engineering. You may say there is lots of volatility and uncertainty. If that is what you perceive perhaps think of enrolling at mechanical engineering or industrial engineering as your minor, which provides a bit more flexibility. Petroleum engineers work with scientists from diverse backgrounds, which allows for personal growth and career fulfillment. It is a satisfactory field of work where women are highly respected. The great part is that your knowledge is transferable. To learn more about how your expertise and skill sets can be used in different areas of the energy industry check Erik Nickel's blog on Energy from the Earth: Expanding the role of the oilfield expert to new opportunities.
Engineering in general is the most common type of degree to create millionaires and billionaires, lots of people start their own companies and become entrepreneurs and business owners (30 Most Popular Degree Majors Studied by Millionaires - MBA Central).
Engineering is a constantly evolving field. The oil and gas sector is facing an aging workforce and the demand for new kinds of skills in areas such as advanced analytics and machine learning have been increasing.
If you are a creative female who enjoys problem solving, a career in the petroleum industry is for you. There is always demand for creative minds.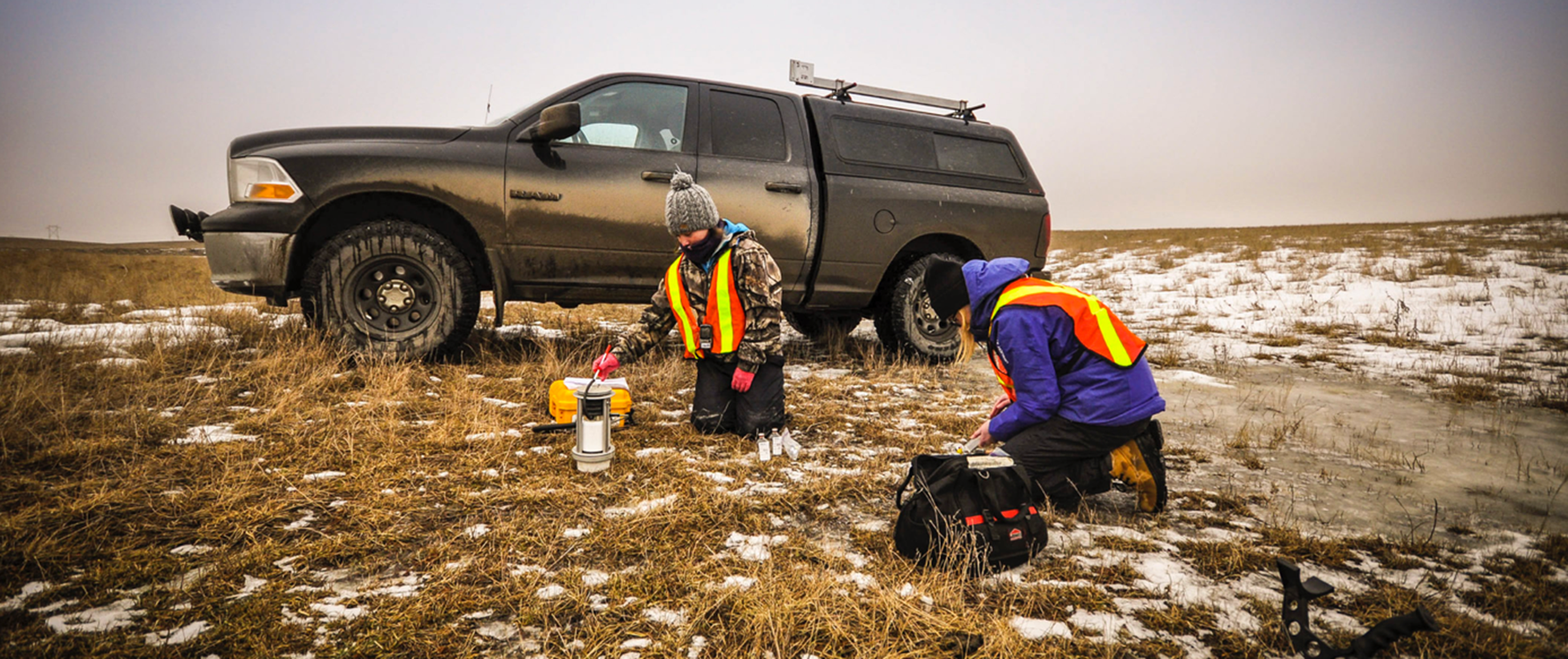 One career for women in oil and gas includes these chemistry graduate students acting as technicians sampling soil gas samples at Aquistore. Image courtesy of Flux Lab.