Welcome to PTRC's Very First Blog. I have had the pleasure of being the President and CEO of PTRC for over 3 years, building on the success of an organization that is into its 22nd year of research in the oil and gas industry in Saskatchewan, Canada and around the world.
I would like to use the BLOG forum to further convey and discuss our activities on a more personal level than the newsletter we distribute every two months. This BLOG will be used to share a monthly CEO message; to get to know our staff, their thoughts, and how they facilitate the broad spectrum of activities PTRC is involved in; and the BLOG will describe our vision, our strategy, our culture and our alignment with industry and governments. If there is one thing I've learned, it's that we can never over communicate what we are all about. So here we go.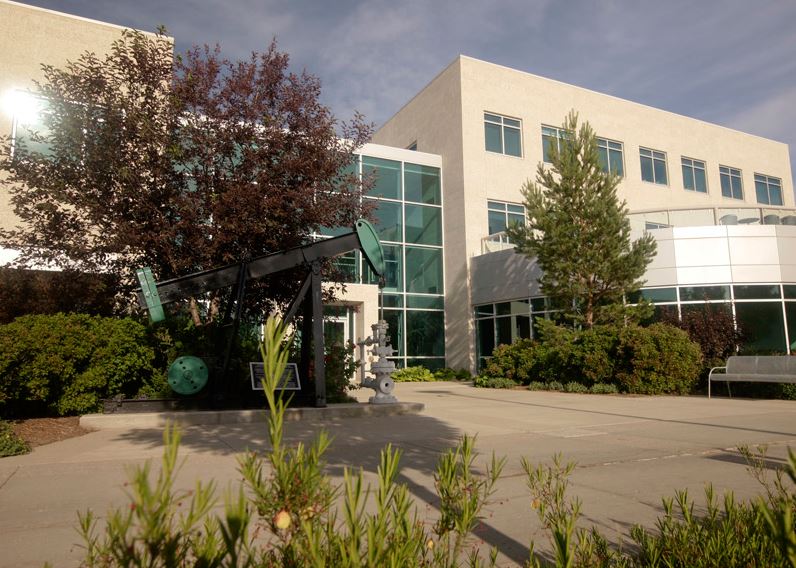 PTRC's mission is to support the Saskatchewan energy industry by promoting research and innovation to enhance the efficiency and decarbonization of oil and gas production. Our Vision is to be the organization of choice for collaborative research and innovation for the environmentally-responsive production of energy in Saskatchewan and beyond. Our Strategy has been to promote research and incremental innovation in oil and gas resource development that mitigates the associated environmental impact of the industry.
In addition, we coordinate world leading research in "decarbonization" through carbon capture, utilization and storage (CCUS) with emphasis on CO2 EOR and storage. We do this by: fostering collaborative energy research, and building alliances with key stakeholders and other organizations to expand the scope of PTRC activities and interactions.
PTRC's three areas of research are:
CHOPS (Cold Heavy Oil Production with Sand) recovery optimization from the Lloydminster area,
Tight and light oil recovery including CO2 EOR from SE Saskatchewan, and
Aquistore CO2 storage from a coal fired power plant with post-combustion carbon capture, located near Estevan, Saskatchewan.
For 22 years we have administered over $210 MM in research funding provided by the Saskatchewan provincial and the Canadian federal governments, industry and foreign organizations and governments. We are recognized as a world-leading research organization specializing in the areas of decarbonization technologies, CO2 EOR and storage.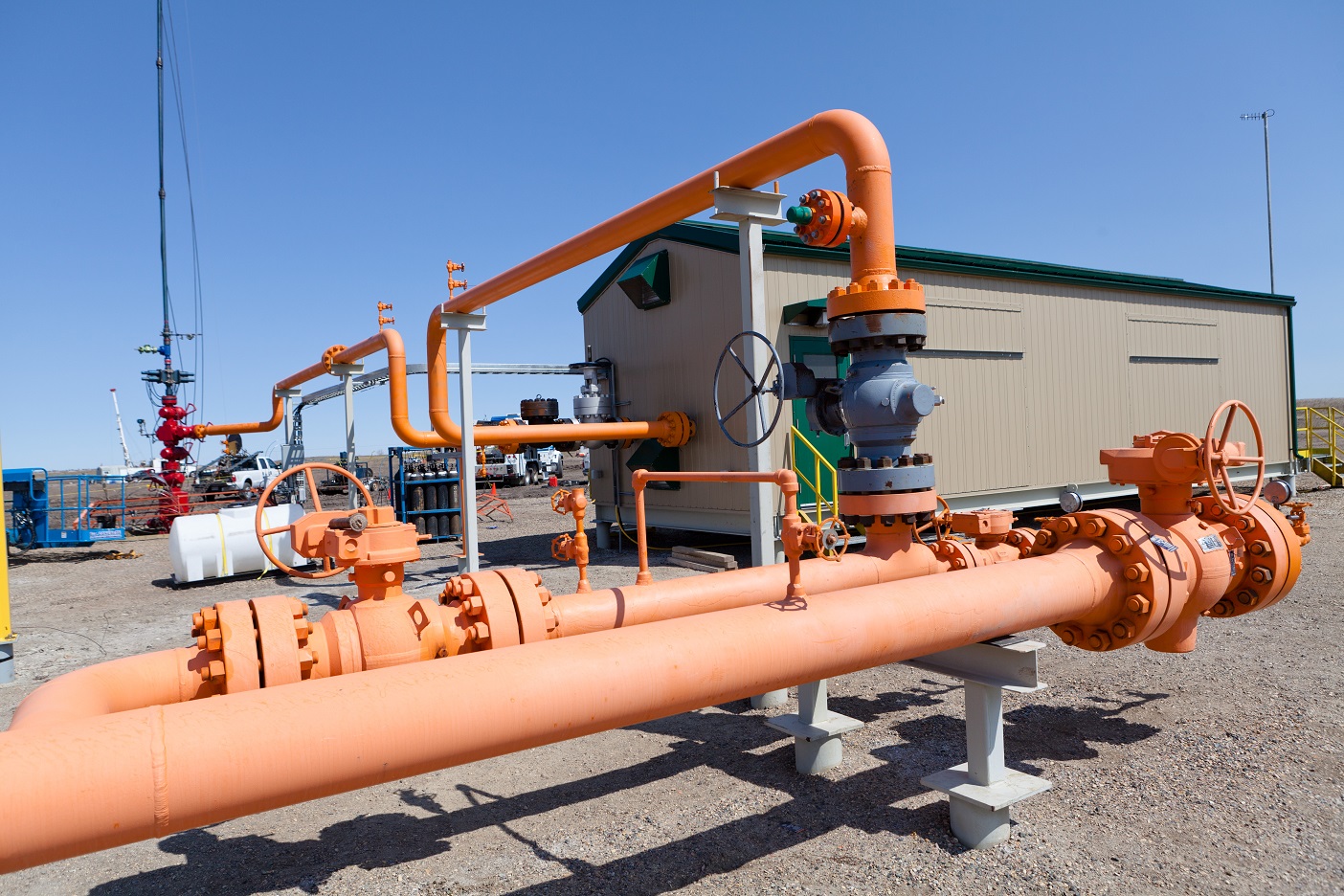 The CO2 injection well at Aquistore
The World Has Changed with COVID
Our world has changed so much since early March of 2020. Multiple threats never before seen on a world scale and all at the same time, have changed our lives. The health risk of COVID-19 and corresponding loss of life, the stress on healthcare, a worldwide economic downturn with job losses on a massive scale, travel and world trade grinding to a snail's pace, and another oil price collapse. The full effects of all these events are yet to be seen, but one is absolute: we live in a different world than pre-March 2020.
PTRC, like other organizations, must change to adjust to industry needs, government directives and regulatory requirements. Like most companies our staff has been working from home since March 16. We are in the process of developing plans to return to offices beside the campus of the U of Regina over the fall. The return will be systematic and slow, in keeping with Saskatchewan and City of Regina guidelines. Our staff safety and health are our top priority. At this time we see the need to pivot to changing circumstances. We also plan to review our strategy with a goal to focus on the strengths of PTRC, which are: research in decarbonization, reducing GHG emission through CO2 storage, and EOR research and technology development.
Ahead of the Curve
PTRC was the technical advisor and project manager to the Weyburn CO2 EOR project from 2000 to 2016. Our stable of researchers were involved in all aspects of measurement, monitoring and verification (MMV) of CO2 storage and movement through the Weyburn-Midale resource, the largest clastic rock commercial CO2 EOR project in the world at the time.
In 2014 we took our expertise in Weyburn and applied it to developing a world-class monitoring plan for CO2 storage in the deep (3300m) Deadwood formation adjacent to the SaskPower coal-fired power generation plant. The plant was then completing the construction of the largest carbon capture facility in the world on a refurbished turbine. Most of the CO2 was earmarked for use in the Weyburn CO2 EOR project, but a slipstream of CO2 was to be stored in the Deadwood. It made sense for PTRC to design and operate this storage project, referred to as Aquistore.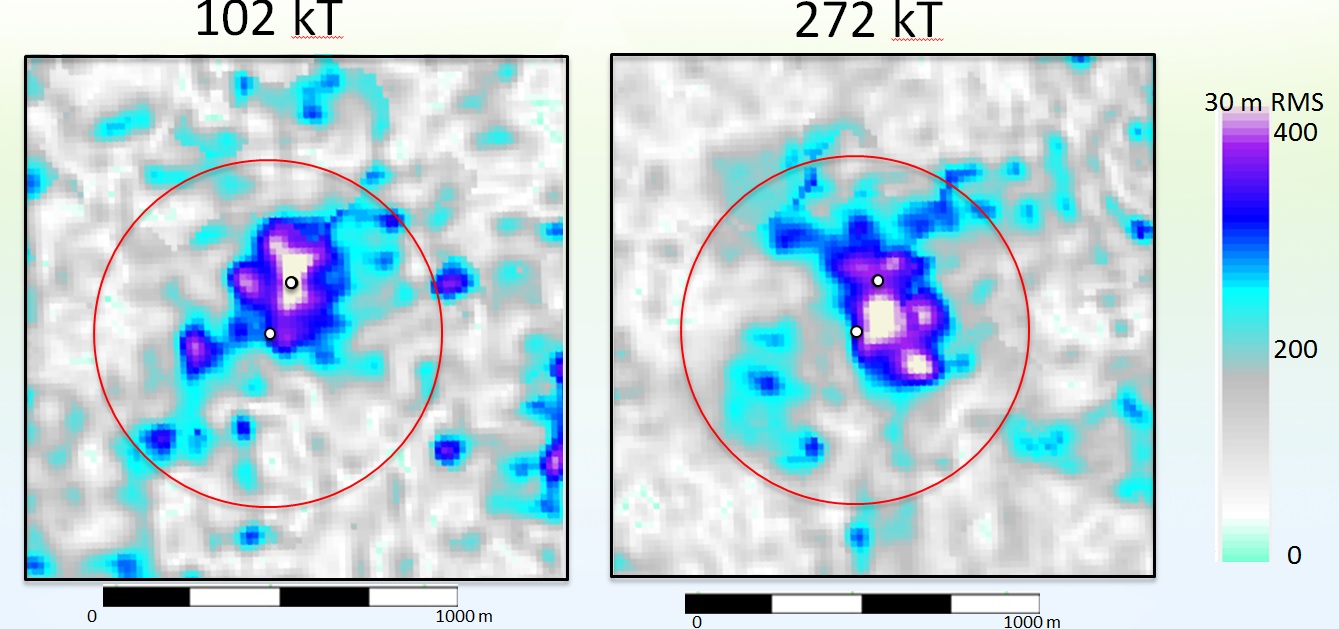 Seismic imaging of CO2 in the Deadwood formation at the Aquistore site at 102 kT and 272 kT.
Industries and governments recognize that in order to come close to meeting the Paris Accord targets, CO2 storage from existing large, set-point industrial operations must be enabled. Through involvement in Weyburn and Aquistore – both industrial-scale CO2 storage projects – PTRC and by extension, Saskatchewan and Canada, have been years ahead of the curve in applied reliable and proven GHG reduction technologies.
Our plan going forward is to build on that world-leading expertise to further engage and support GHG reduction technologies associated with CO2 emission management.
Staying Ahead of the Curve
In order to stay ahead of the curve, the PTRC must not only adapt to the current times, but also be forward thinking in its sponsorship and support of areas of research.
To that end, we are moving in a similar CO2 storage and EOR direction in our CHOPS research. Most research going forward will be focused on using CO2 for EOR in CHOPS wells and the quantification and verification of storage potential in these shallower formations (such as the Sparky and McLaren formations). By using existing wells in the Lloydminster area as injection wells, we can delay well abandonment and use existing infrastructure. By using CO2 as a carrier gas with other solvents we can improve non-renewable resource recovery from 2.5% to 5% of the original oil in place (OOIP). That may not sound like much but when the resource is as large as the one at Lloydminster, doubling from 2.5 to 5% recovery is a substantial increase on the order of 1.5 to 2 B BBLS on new proven reserves.
We also believe there may be more opportunities for CO2 EOR in other tight and light reservoirs of SE Saskatchewan. PTRC has embarked on an update of a study done in 2006 in collaboration with SaskPower to determine what other reservoirs would lend themselves to successful CO2 EOR and sequestration. The study is not only about quantifying "the size of the prize" – what reservoirs and how much incremental oil production is possible – but is also about running economics to determine what it will take for other projects to be financially viable.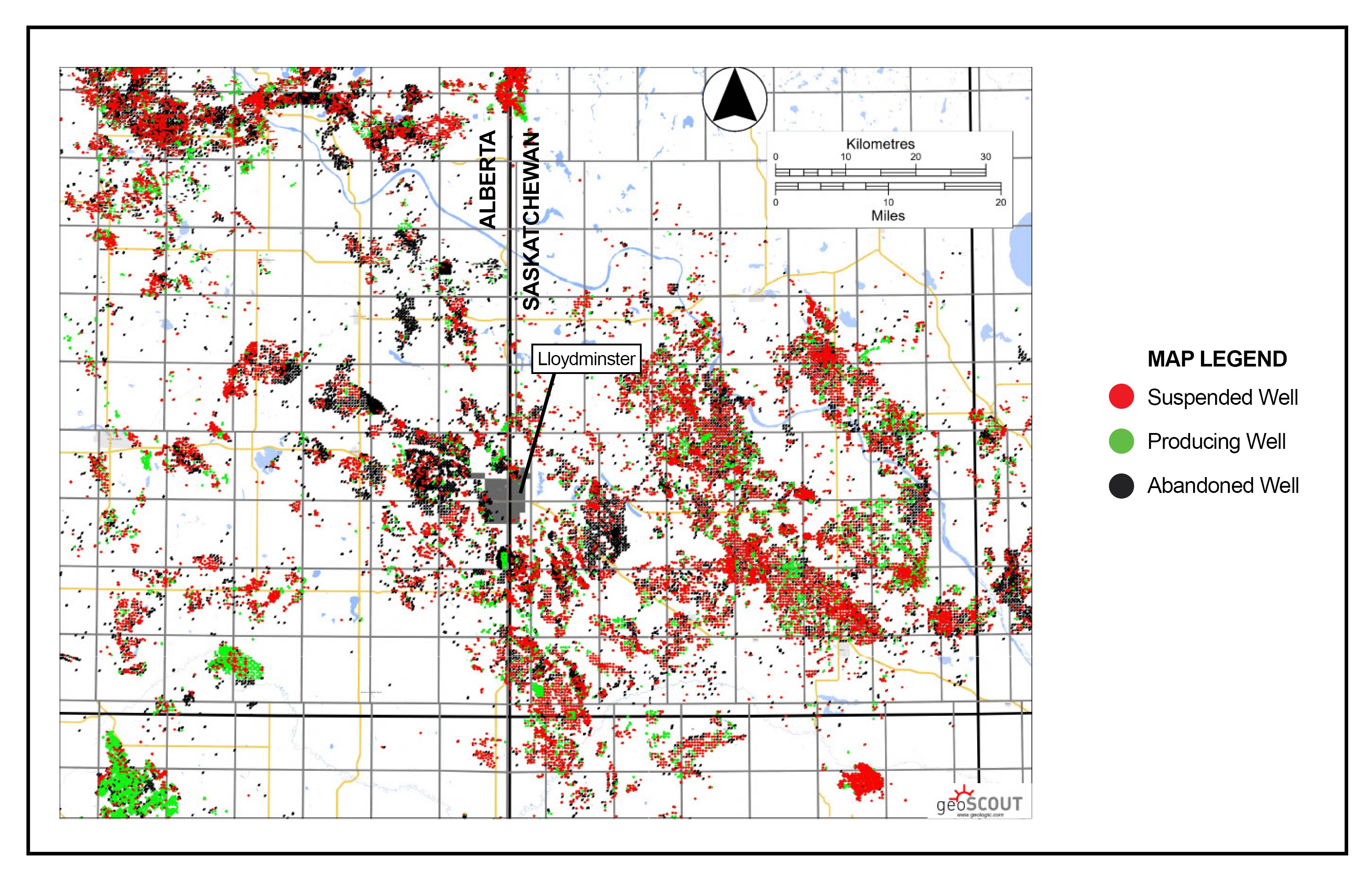 Image of the Lloydminster area of Saskatchewan and Alberta, with suspended and abandoned wells in red and black
This is a fully probabilistic study to understand the sensitivities to fiscal terms, oil prices, CO2 delivered cost, capital costs, fixed and variable operating costs, etc. The source of CO2 is not limited to just Boundary Dam, but could include potential for CO2 from a conceptualized carbon capture plant at SHAND power station.Expanding the Alberta Carbon Trunk Line (ACTL) into Saskatchewan in also an option, to provide Lloydminster and SE Saskatchewan with a CO2 source, tapping in along the way to other sources of CO2 from places like Mosaic potash plants, the Federated COOP refinery, fertilizer plants, etc.
Building Alliances, Collaboration and Partnerships for Industrial Emissions Reductions across Canada
To be successful going forward we need to do all of the above. Saskatchewan is the 2nd largest oil and gas producer in Canada. What we do in Saskatchewan is similar to what is being done in Alberta except for oil sands development in Fort McMurray and deep shale gas in the Montney. Saskatchewan is extracting heavy and light oil (and gas) in the most cost effective, and environmentally conscientious ways possible.
Collectively the industry is reducing GHG emission and storing CO2 at the Quest Project at the Scotford Upgrader in Alberta (Shell Operated, CNRL owned) and Aquistore (PTRC operated, SaskPower owned). CO2 is also being recovered from the Sturgeon Refinery/Nutrien Redwater facility near Fort Saskatchewan, Alberta. This CO2 is being delivered through the ACTL to the Clive project near Red Deer for EOR and storage. And of course, as I've already written, CO2 is delivered to Weyburn from Boundary Dam for EOR and also for permanent storage to Aquistore.
Partnering with Alberta, collaborating with Alberta-based companies and research organizations, and fostering research alliances with Saskatchewan organizations like the Saskatchewan Research Council and the provinces two universities, all make sense to get the best value from the research and to make the biggest impact on industry as a whole (not just oil and gas, but other set-point industrial emitters). Further, as a research organization that is funded by governments and industry, it makes sense for the federal government to support research that is mutually impactful to industry as a whole, (Saskatchewan and Alberta, but also industrial emitters in the rest of Canada, like cement suppliers, steel makers, and others).
All of this is about taking CO2 that is currently being emitted and capturing it from existing plants, utilizing it, and/or finding a home for it, so it remains stored forever. This is what staying ahead of the curve looks like. This is why we need to build alliances, collaborate, and partner across organizations and governments to make the best use of our financial and natural resources in oil and gas and across a range of industries.
I hope you will continue to follow our BLOG as we talk about some of the technical details of the research we do. (Click on the image below to read Dan's bio)